Some good news from OLPC: we've decided to base the new XO-1.5 laptop's software release on Fedora 11. Unlike previous releases, we plan to use a full Fedora desktop build, booting into Sugar but giving users the option to switch into a standard GNOME install instead. (This will mostly be useful for older kids in high school.)
I'm particularly happy about this plan because it will allow us to catch up with the awesome work present in the Sugar community's most recent release, Sugar 0.84, as well as merging the latest Fedora work and including GNOME into the mix for the first time. The new machines will have 1GB of RAM and 4GB of flash, so we have enough room for both environments at once.
We think we'll need to use our own kernel and initrd, but the other base packages we expect to need are present in Fedora already, including Sugar; in fact, we already have an F11+Sugar+GNOME build for the XO-1 using pure Fedora packages. That build will get better as a result of this work (although OLPC's focus will be on getting the XO-1.5 running) and it will form the basis for the XO-1.5 build.
If you're interested in contributing, we'd certainly love your help, and you can find us on the fedora-olpc mailing list, and freenode IRC's #fedora-olpc channel. Our existing F11 build images for the XO-1 are here, and we'll soon begin publishing images for the XO-1.5 too. XO-1.5 beta machines will start to be manufactured over the next few months, and will be available to contributors as part of our Contributors Program once the hardware's up and running.
Finally, thanks are due to the volunteer Fedora packagers and testers who helped us get to the point of being able to commit to Fedora 11 for this new build, in particular: Fabian Affolter, Kushal Das, Greg DeKoenigsberg, Martin Dengler, Scott Douglass, Sebastian Dziallas, Mikus Grinbergs, Bryan Kearney, Gary C. Martin, Steven M. Parrish, and Peter Robinson. Thanks!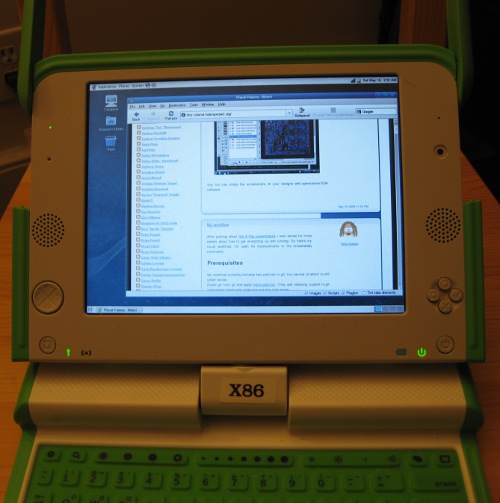 Fedora 11 Preview running on the XO-1