I've been wanting to get into electronics for a while now (it seems like a sensible thing for someone who works for a laptop manufacturer to do) but haven't known where to start. Back in January, the fine people at Sparkfun Electronics helped out with that by running a Free Day where they gave away electronics worth USD $100k: $100 free, to 1000 people. I was lucky to be one of the 1000 people, which put some electronics ideas within my reach that I otherwise would have found it hard to justify spending money on.
And, here's the result — Madeleine and I made a t-shirt together that displays how much unread e-mail I have using an Arduino Lilypad and Bluetooth dongle, and an Android phone to send the number of unread mails to the shirt. Here's an image of the center of the shirt, and a video showing it in action: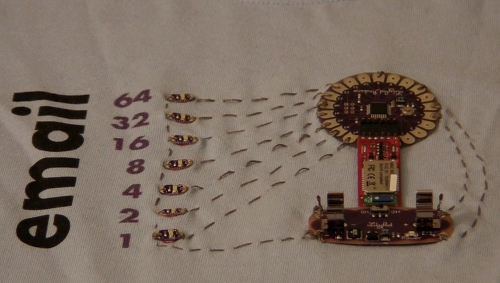 Lilypad t-shirt (youtube, download in Ogg Theora)
I've uploaded the source code that runs on the Lilypad and the python script that I'm running on the Android phone to my github account.