We have a Planet for the WSOP students now — Planet WSOP.
Thrilled to see that two of our students, Maria Soler and Cecilia Gonzales, were reported on in El Pais, one of the biggest newspapers in Spain. Does anyone feel like coming up with an English translation of the article?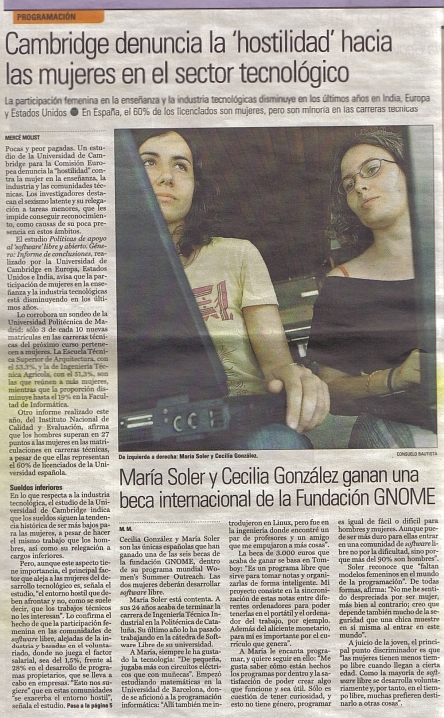 I spent the last week at OLS. My first time there, and a lot of fun talks and parties. Xen and virtualisation really seem to be coming of age; impressive talks on:
live migration of VMs
the Linux support for live CPU/memory hotplug
Rik van Riel's work on measuring what resources a VM is using (so you can use the hotplug support to change VM resources at runtime depending on what's actually being used)
Greg Kroah-Hartman's driver tutorial (photo) and keynote (slides) were excellent — three cheers for anyone who has the guts to stand up and say "Closed-source kernel drivers are illegal" in a room full of Linux vendors — and the systemtap talk and One Laptop Per Child BOF were other favourites of mine.
One of the WSOP students, Monia Ghobadi, also came to OLS to hack on her project (integrating GNU screen with gnome-terminal) with Behdad and I; was lovely to meet and work with her.