I've been having fun with new purchases recently: a new bike, and a Neo Freerunner phone from Openmoko. The phone is also my first GPS, and it's doing a fine job as one: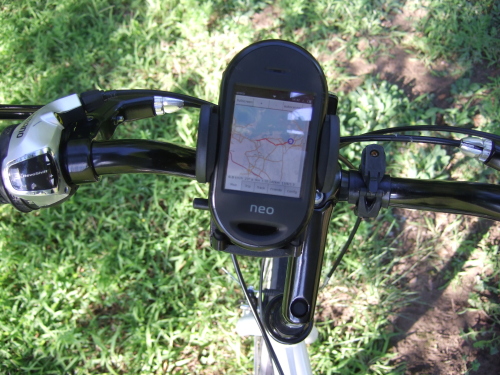 A bike-mounted Freerunner
Software for the Openmoko has come a long way since the previous model, with a pretty large community of developers building up. (I've tried to do my part by writing a patch to fix the touchscreen when the screen's rotated into landscape mode.) I'm particularly pleased with tangoGPS, which uses data from OpenStreetMap and has some great features: you can zoom out to enclose an area and ask it to download all of the map tiles inside that area for offline viewing, up to a specified zoom level (so, I now have map images for most of Massachusetts sitting on my SD card). You can also publish your current location and get a moving map of friends. It's written by a single developer, and I'd suggest making a donation to the project if you're using it — think about how much such an app might cost if it were running on the iPhone instead of the Freerunner!
The bike mount in the photo above is an Arkon CM927, which I don't recommend very highly; I've had the phone come off it (without major damage, which is good) twice now while riding over rough road. It should probably be strapped in separately, but that makes the whole thing less convenient. Let me know if you know of any better cell phone mounts.
Okay, on to the bike ride, which happened yesterday. It was a beautiful day, and we rode from Quincy Center to the beaches at Hull and back, with a few extra-fit people riding from Somerville to Quincy at the start. Here's a photo of the group: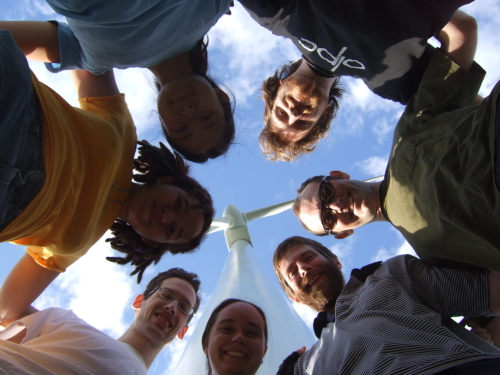 We've taken the ferry back into Boston harbor twice now (once from Salem and this time from Quincy) and the trip and harbor look fantastic around sunset.
Finally, here's a photo from tangogps: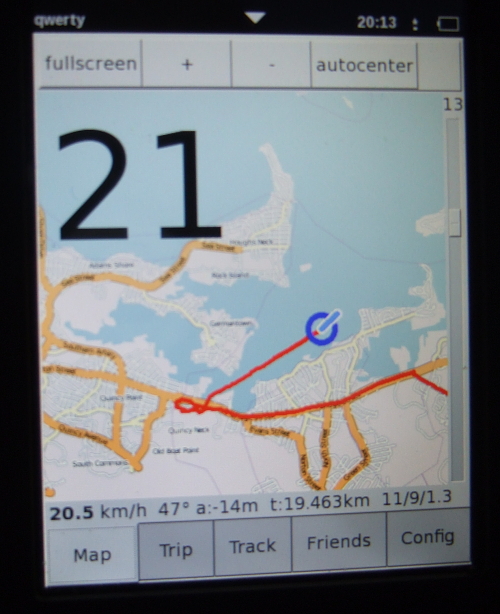 Leaving Quincy Harbor on the ferry